BDS SingleVision ®

Designed to build and maintain relationships
Most organizations have many separate sources of information, including their own internal Accounting, Sales, and Customer Service departments, third party sources such as D&B, InfoUSA, and industry specific data. The problem is, that this information is usually "siloed" — stored in separate databases, maintained by different departments, with no links to easily exchange data.
Without a way to integrate these multiple distinct databases, organizations often make decisions based on incomplete information, leading to inefficiency and ineffective planning.
A single view of multiple data sources for analysis, viewing, list building, and file maintenance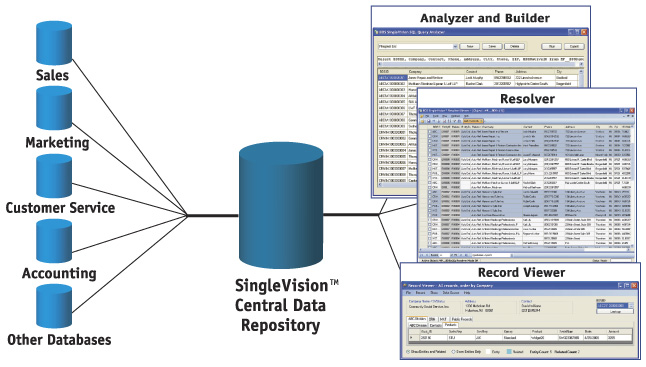 Click here for a screenshot of multiple data sources matched in the Resolver.


BDS SingleVision® is a data integration software application that provides organizations with an effective new way to access and utilize information from a number of separate databases. SingleVision enables:
Functional area managers to collect and analyze matched and related data in order to assist executives with strategic direction and tactical execution.

Database managers to add new net records, standardize data, improve data quality, and share information between multiple databases within the organization, while maintaining regulatory compliance.

All departmental employees to access a single view of the organization's customers and prospects, including all relevant information drawn from multiple database silos.

Separate departments to match records on a one-time basis, or continuously in order to keep multiple databases updated at the same time, regardless of which department was responsible for the original record.
Since 1991, BDS has been focused on helping business-to-business and business-to-consumer marketers of all sizes identify, analyze, and serve their customers and prospects more effectively. With this experience, we have developed the advanced data matching and linking processes of SingleVision to maximize the value and accessibility of the data our client companies use and maintain.

Download the BDS SingleVision brochure [PDF]
| | | |
| --- | --- | --- |
| If you do not have the free Adobe Acrobat Reader, you can download this now from the Adobe web site. | | |

For details, please contact BDS:
Email: info1@bdsdatabase.com